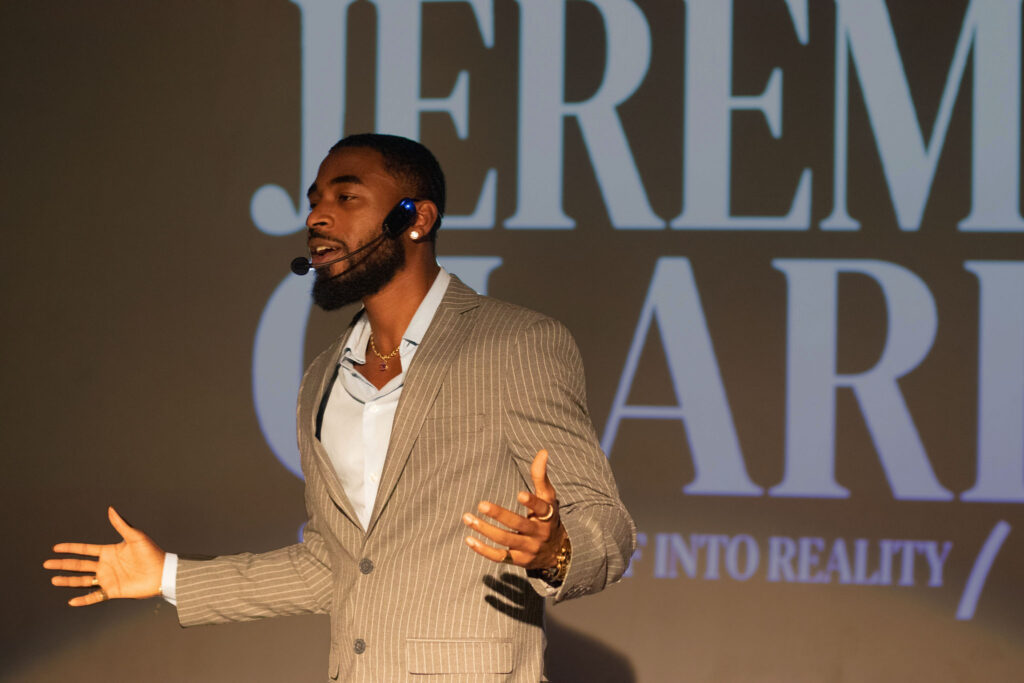 Have Your Audience Experience the Power of Positive Mindset: Book Me for Your Next Speaking Engagement
Hey! I'm Jeremy Clark, and through my story, I offer practical steps to using positivity as a weapon to overcome negative thinking, leveraging fear to push you forward, and changing failures into purpose so you can overcome obstacles and succeed.
When I was younger, I followed the path everyone told me to follow. I studied hard, got my MBA, and entered a lucrative career field. Then, I experienced personal tragedy with the passing of my father and involuntary job loss in the middle of a pandemic. I felt lost, empty, and negative emotions of doubt and fear got the best of me. I had to start all over again, find my passions, and re-learn myself. It was through this process that I created a mindset toolkit that allowed me to master my emotions in times of distress, which in turn allowed me to overcome obstacles and achieve my goals.
Now, I want to share this toolkit with your audience. My vision is to provide practical mindset tools to help people create their own path to success with purpose. Confidence is key to a happy and successful life, and mastering your emotions is crucial in building that confidence. Your audience deserves to have this impactful message that will give them the confidence to accomplish their goals and live a fulfilling life.
I'm excited to speak at your event and share my story and toolkit with your audience. Book me now and let's inspire your audience to achieve their goals with purpose.
– 

Thank you for speaking at the It's Time to Move Beyond Barriers Summit. Your session was spot on! You brought clarity and understanding with your words. The attendees were able to take in so many of the gems you shared. Thank you for sharing your story and journey with us.
Jeremy visited our school, St Constantine's International School, on the 9th of February 2023 and made a great impact on our students. His passion for overcoming fear and reaching one's potential shone through. His talk was engaging and his message was clear to the students. A lot of the students have taken inspiration from his words and I believe Jeremy's shared experiences will motivate students in and outside of school. I thoroughly recommend Jeremy to other educational providers
Thank you so much for speaking in chapel! You did an incredible job! Like I said after your talk, I believe this was one of the best alumni chapel's I've seen. You really inspired our students and let them know that it's okay to struggle. I'm so glad you were able to be present in person and share such an important message.
As a speaker, he has the cheat code. People tell you a lot about being an entrepreneur, but they don't tell you all the good and bad that comes with that. Jeremy is very impactful. He's the truth.
He really opened up my mind and taught me how to be confident in myself again. He just reminded me that you have all the answers within you. He taught me how to be ambitious. I learned how I could be or choose anything I wanna be through some tough assignments and questions that he came up with himself. He is a motivator and makes me, makes me strive to want to be a better me. That man really opened my mind and taught me how to be confident in myself.